Aesthetic Seduction, Marketing & Advertising News, ET BrandEquity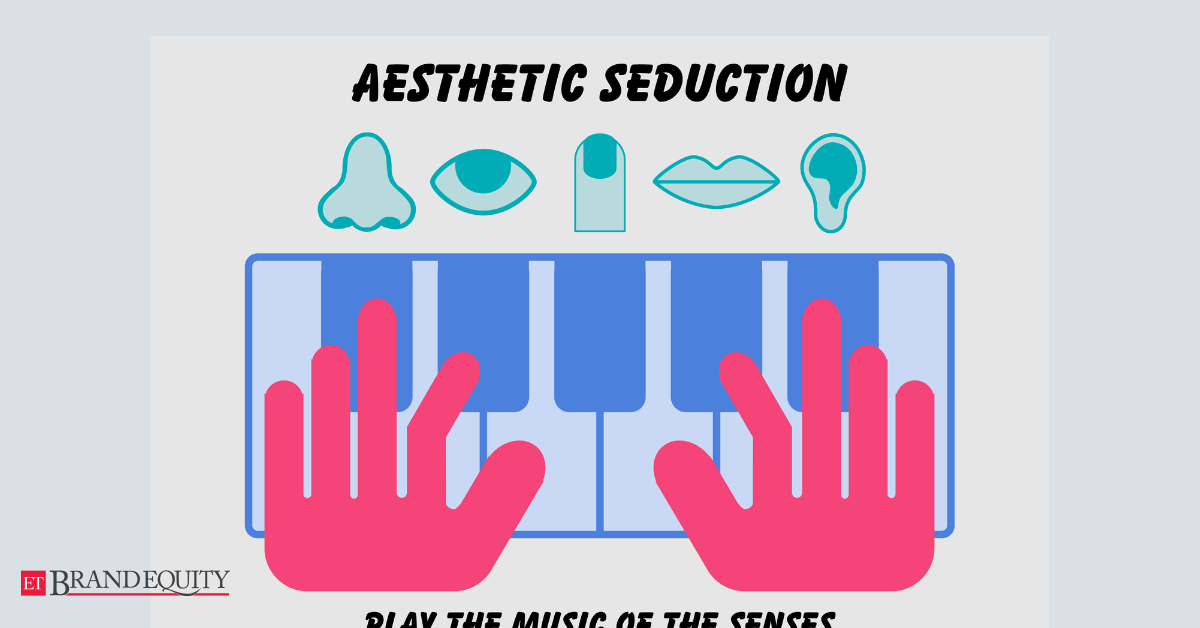 ET BrandEquity.com brings the twenty-eighth part of Strategygrams weekly series.
This week's Strategygram titled "Aesthetic Seduction" is part of a series created by brand strategy consultant Sattar Khan. Each Strategygram condenses a strategic thought into a single image. The collectible series is a visual guide to strategic thinking and provides handy image prompts for your branding workouts.
Have you ever been enchanted by the aroma of freshly baked bread? Enthusiastic about the brum brum of a sports car engine? Want to choose a pastry from the dessert cart of a restaurant? Eager to run your finger over the edge of a hardcover book?
Then you know the power of sensual details to grab your attention, arouse your emotions, arouse your interest.
Brands – as they become functionally similar, become product and service hybrids, become "phygital" – must answer two questions if they want to stand out from their competitors: "What is the aesthetic response that my brand evokes (or should mention)? " and "How do I trigger this aesthetic response?"
People tend to believe that attractive brands are better, especially in situations where people can't know in advance which competing option is actually better. This aesthetic halo effect, this attractiveness bias, makes a brand more captivating, more compatible, more credible. Indeed, a well-designed brand increases usage intensity and reinforces brand-specific usage patterns, thus promoting mental confinement.
(Of course, thanks to UX research, we know that an attractive design can make people forgive minor, but not major, issues. A brand that attracts with a promise it can't deliver, quickly learns that no relationship based on catchy chemistry survives without fitness compatibility.)
Neurobiologically, we are wired towards aesthetic appeal, whether it is an object or an experience. The regions of the brain that respond to aesthetics—the medial orbitofrontal cortex, subcallosal cingulate gyrus, and bilateral insula—are the same for "reward processing and emotional appraisal"; they make us assume that aesthetic appeal is also emotional fulfilment, the intended goal – the reward – being pleasure.
"All action," notes somaesthetic pioneer Richard Shusterman, "requires the body, our tool of tools." Our senses affect our emotions, and our emotions color our reason. As a prankster once said, "People don't think with their thinkers. They think with their feelers.
This gives brands the ability to create aesthetic disturbancewith a sensory challenge the consumer's assumptions about the experience he undertakes as a habitual act. This aesthetic disturbance can be large in a single moment of truth, or it can be a series of small but cumulative disturbances that span the course of experience.
With your understanding of how aesthetics drive brand preference, how did you express your brand's value proposition in your strategy document? Is the proposition biased towards the rational? Is he a prisoner of the language of reason? Or does it arrogate to itself the advantage of aesthetics? Is it imbued with the language of the senses?
If a brand is to evoke a consistent aesthetic response, i.e. have "high sensibility", sensibility having to do with the consistency of a response among people rather than whether the response is positive or negative – a brand needs a comprehensive, multi-sensory approach brand aesthetic code which goes far beyond the traditional guide to "brand style" (which is primarily focused on graphic design) and lone slingshots (like the sonic brand).
Ultimately, a brand is not about a product; it is an experience. And perhaps we can all learn from examples like the Japanese tea ceremony: it's not about the quality of the tea, but about the aesthetic experience that encompasses the ritual of drinking tea.
So the question is: what is the brand of your brand? aesthetic intelligence and to what extent does he compose and play the music of the senses?
Check out the first twenty-seven Strategygrams: "Speed ​​Kills", "Half Bridges Don't Work", "No Contest", "The Silent Clue", "Who's For Lunch?" ", "Competition Is A Monster", "The Distinctive Sells the Difference", "Strategy as History", "Timing Beats Speed", "Conquering Fort Customer", "How Are You Different? », « The Villain and The Hero Inside », « Galileo's Discovery », « The Strategic Logic Chain » ', 'The Brand Experience Trio', 'Deer in the Headlights', 'Do the maths', 'An insight is like a tram car', 'The leap of insights and ideas', 'The Three Monkeys of Strategy', 'The breakthrough is in the question', The tango of problem solving, 'Going to simplicity', 'Head on a plateau", "The slippery slope of good", "It is renewed or new" and "The elasticity of affection".
-Sattar Khan can be contacted at [email protected]